Corrugated Pipe for Fuel Dispenser
The corrugated pipes for fuel dispenser provided by Jayo Petro are designed, produced and inspected in strict accordance with the national GB/T12777-2008, GB/T14525-2010 and American "EJMA" standards. The technical indicators of corrugated pipes have reached the domestic leading level. Our company's corrugated pipes are popular with excellent quality and reasonable price, and are widely used in petroleum, chemical, electric power, auto parts and other industries.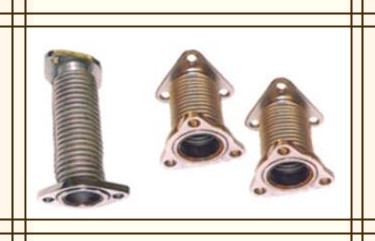 The theoretical basis of corrugated pipe design is plate and shell theory, material mechanics, computational mathematics, etc. There are many parameters in the design of corrugated pipe, including stiffness, stress, effective area, buckling, allowable displacement, pressure resistance and service life. Due to the different uses of bellows in the system, the focus of its design and calculation is also different. For example, the corrugated pipe is used for force balance components, and the effective area of the bellows is required to remain unchanged or has a small change within the working range. For measuring components, the elastic characteristics of the bellows are required to be linear; it is used for vacuum switch tubes as vacuum seals , the vacuum sealing, axial displacement and fatigue life of the bellows are required; for valves as seals, the bellows should have certain pressure resistance, corrosion resistance, temperature resistance, working displacement and fatigue life.
Stainless steel corrugated pipe series with good telescopic performance and strong sealing are suitable for fuel dispenser and oil tanker.  Besides, Jayo Petro can also offer other corrugated fuel pipe with customized sizes and specifications, and warmly welcome new and old customers to order.
Technical Parameter of Corrugated Pipe
| Specification | Material | Working pressure |
| --- | --- | --- |
| DN25mm-100mm | stainless steel | 0.6-1.0㎫ |
Other corrugated pipes:
Pressure: 21MPa

Connection method: threaded pipe fittings, flanges, tube connection, quick connector

Specifications: DN6 to DN800mm

Typical application industries:

Metallurgical industry, alchemy, hot rolling mills, oil refining,

oil and gas storage and transportation, nuclear industry, shipbuilding industry