Automatic Tyre Inflation Equipment
This tire inflator is a portable and high-efficiency nitrogen generator and conversion system for 2 tyres simultaneous inflation, which can be used as gas station part.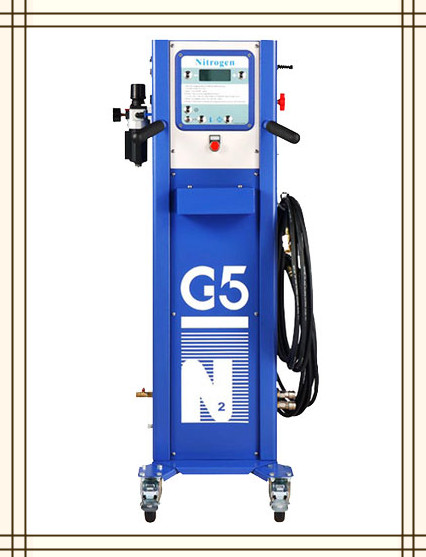 It is a cutting-edge technology product that automatically adjusts tire air pressure through microprocessors and pressure sensors. It can complete the inflation/deflation/inspection of tires at one time. With high precision, high speed, durability and simple operation, this tire inflation equipment can realize better protection to tires.
Main features of Tyre Inflator
◈Portable and smart
◈It can inflate 2 tires at the same time, saving 30% time compared to filling 1 tire
◈Only need to press a button to convert the air in the tire to nitrogen
◈Fully automatic, programmable and computer-controlled air nitrogen automatic conversion system
◈Applicable to: motorcycles, cars, SUVs
Technical Parameter of Tyre Inflator
Power
Operating Temperature
Range
Compressed
Air Input Range
Compressed
Air Input
Flow
Nitrogen Purity
Maximum
Nitrogen
Pressure
in Tank
Operating Range
Resolution
AC100-240V  50/60HZ
-20℃/-4°F
to
70℃/158°F
87-123PSI
/6-8.5bar
/600-850kPa
250L/min (8.0cfm)
95-99+%
102PSI
/7bar
/700kPa
5-90PSI
/0.3-6.2bar
/35-620kPa
1PSI
/0.1bar
/5kPa
Package Info of Tyre Inflator
Product
Dimension
(mm)
Package
Dimension
(mm)
Net weight
Gross weight
1260*450*590
1380*730*510
72kg
89kg
Specifications of Tyre Inflator
◈ Connect the air compressor to generate nitrogen
◈ External precision filter
◈ Built-in storage tank
◈ Automatic inflation function
◈ Zero drift automatic calibration function
◈ Hold the last pressure setpoint
◈ Sound and light alarm
◈ Self-fault diagnosis function
◈ Stainless steel keys, long life
◈ LCD display with backlight
◈ Two 8 meters long standard trachea with open inflatable chuck
◈ Comprehensive diagnostics and error reporting functions
◈ Air nitrogen conversion function
◈ With nitrogen purity test port, it is convenient to test nitrogen purity
◈ Overcharge pressure setting function, suitable for inflating new tires, which can make tires and wheels more dense
◈ The number of air nitrogen cycle conversions is adjustable
◈ The first exhaust pressure during air nitrogen conversion is adjustable
◈ Inflate 2 tires at the same time
◈ Another nitrogen outlet can be connected to the machine and your own inflation gun for manual nitrogen inflation