ETP-60A Electric Oil Pump Assembly
ETP series electric oil pump assembly has a variety of flexible combinations according to customer requirements. Assembled with a 1″ quick connector, it is quick and easy to install on a small oil tank. The electric oil pump assembly can transport clean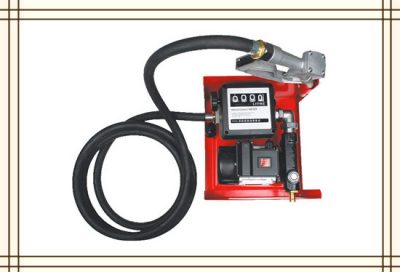 neutral oil such as kerosene, diesel and other mineral oils and various vegetable oils from one container to another destination, improve work efficiency and reduce labor intensity, and is widely used in commercial, industrial, agricultural and other industries for oil transportation. This series of electric oil pump assembly has the advantages of reliable operation, convenient operation, favorable price, long service life, convenient maintenance, light weight and low noise. In order to ensure the normal operation of the electric oil pump assembly, the port of the oil suction pipe should be more than 5 cm away from the bottom surface of the container to prevent dirt from being sucked in. The oil suction height should not exceed 1.0 meters. If it is found that the oil is not absorbed or the oil volume is insufficient, stop working immediately, and immediately check whether the electric oil pump rotates in the correct direction, whether the pipeline is unobstructed, and whether there are potential problems such as air leakage in the oil suction pipe, so as to avoid using it with illness and shortening the life of the electric oil pump assembly.
Technical Parameter of ETP-60A Electric Oil Pump Assembly
Model
ETP-60A
Standard
Pump
JY60-AC220
Flow Meter
FM-120L in Liter
Hose
 4m
Manual Nozzle
J60-A
Bracket
Yes
Option
Pump
JY60-AC110
Flow Meter
FM-40G in Gallon
Automatic Nozzle
Yes
Bracket
No
2M Inlet hose
Yes
Filter Check Valve
Yes
Package Info of ETP-60A Electric Oil Pump Assembly
| Dimension | Net Weight | Gross Weight | Package |
| --- | --- | --- | --- |
| 42*35*34cm | 16kg | 17kg | 1pcs/carton |
Besides, Jayo also provides other ETP series electric oil pump assembly. According to customer requirements, they all have a variety of flexible combinations. Assembled with a 1" quick connector for quick and easy installation on small tanks. Contact us for more details about electric fuel pump assembly.