AHCB Series Explosion-proof Oil Transfer Pump
AHCB series explosion-proof pumps are oil-water high-pressure oil transfer pumps independently developed by our company, using a combination of aluminum alloy pump casings and channel-type impellers. This series has 3 water outlets, which are light and portable with strong selectivity. It has High lift, up to 28 meters, large flow, up to 75m3/h and customized SB silicon carbide mechanical seal, which can transport light corrosive media, improvings overall pump performance. This portable oil pump is suitable for industrial and mining enterprises, gas stations, oil depots and other sites, and can also be used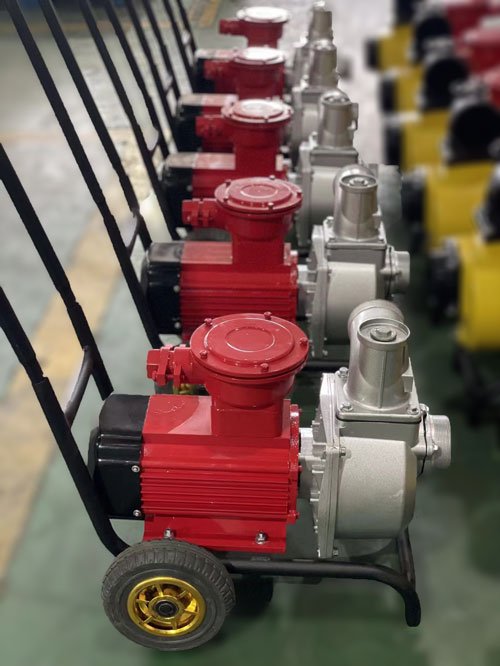 as an explosion-proof fire pump for municipal engineering circulating drainage. Jayo Petro, as a leading professional fueling equipment and gas station parts manufacturer, has launched AHCB-400-50, AHCB-800-80, AHCB-1200-100 explosion-proof oil transfer pump for gas stations and oil tank truck, oil depots and other sites.
Using Conditions of AHCB Series Explosion-proof Pump
◈ Based on the center of the impeller, the depth of submerged liquid shall not exceed 10m.
◈ The temperature of the conveying medium should not be higher than 70°C and lower than 0°C.
◈ The conveying medium is diesel, kerosene, gasoline and other light oils, methanol, alcohol and other flammable and explosive media; water, sewage, etc.
Features of AHCB Series Oil Transfer Pump
◈ Large flow- up to 75m3/h
◈ High lift – up to 28m
◈ Fast self-priming
◈ Low energy consumption
◈ Easy to carry with trolley
Applications of AHCB Series Oil Transfer Pump
This series of explosion-proof oil transfer pumps have the advantages of large flow, high lift, high self-priming speed, low energy consumption cost and so on. It can transport flammable and explosive media such as gasoline, alcohol, methanol, kerosene, diesel, etc. Moreover, this kind of oil pump is suitable for industrial and mining enterprises, gas stations, oil depots, and mine site circulation drainage. At the same time, it can also be used as an explosion-proof consumer pump, and a cart can also be installed according to customer requirements.
Technical Parameter of AHCB Series Oil Transfer Pump
Model
Size(mm)
Flow(L/min)
Head(m)
Power(kw)
Voltage(V)
Speed(rpm)
Material
Impeller

AHCB-400-50

50
417
28
2.2
explosion-proof
220/380
2900
Aluminum alloy

copper impeller

AHCB-800-80

80
834
28
2.5
explosion-proof
 220/380
2900
Aluminum alloy

copper impeller

AHCB-1200-100

100
1250
20
3
explosion-proof
 220/380
2900
Aluminum alloy

copper impeller