Fuel Dispenser JY 30 Series for Gas Stations
Fuel dispensers have been developed along with the development of automobiles and highway transportation. It is a sales terminal in the retail industry of refined oil, a measuring device used for sales settlement. A fuel dispenser is a device that dispenses liquid fuel such as gasoline or compressed natural gas while measuring the amount dispensed. Other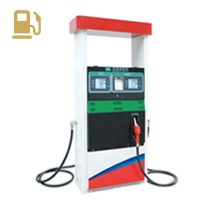 names for fuel dispensers are pumps, gas pumps, or fuel pumps. JAYO Petroleum Machinery provides 30, 40, 50, 60 model fuel dispensers with luxury series and economy series to meet all clients' requirements. In virtue of high performance and super quality, JAYO fuel dispenser machine has been widely applied for gas stations/fuel stations, oil tank truck, factory, dock, mine and so on.
Since its birth in the early 20th century, fuel dispenser has roughly gone through four stages of development. The first stage is the manual manual type, its principle is similar to the working method of the piston of the steam engine. The second stage is the mechanical type, with the character of the combination of electric and manual operation, which can be used for electric oil discharge by the oil pump or manual rotation. The third stage of the belt oil discharge is electronic, characterized by the application of computer technology to the oil dispenser, and the oil discharge is controlled by the computer motherboard, making the oiling convenient, fast and accurate. The fourth stage is a full computer tax control type, which has obvious advantages including the technology of network communication management and applying IC card to the tanker. Therefore, modern fuel dispensing equipment not only has the functions of oil transportation and measurement, but also has the functions of network management, convenient payment and value-added services.
Features of Fuel Dispenser JY30 Series
Reliable and stable fueling function, easy and convenient maintenance, long lifespan.
Equipped with build-in re-cleanable filter, this fuel dispenser has specially designed filtering systems.
Elegant and comfortable structural design, easy to maintain and upgrade.
The appearance color is bright and generous.
High quality and exquisite workmanship.
Adopting high performance explosion-proof motor, this fuel dispenser has strong ability against power fluctuation.
The configuration is more user-friendly.
Technical Parameters of Fuel Dispenser JY30 Series
Accuracy
±0.25%
Flow rate range
5 to 50 liter per minute
Noise
≤80dB(A)
Intake vacuum
≥54kPa
Display
Sales 0.00 to 9999999
Volume
0.00 to 99999.99
Unit price
0.00 to 99999
Electricaltotalizer
Volume 0 to 42949672.95l
Money 0 to 42949672.95
Power supply
AC380V or AC220V, ranging from -15% ~ +10%
Motor's output power
750 W
Working environment temperature
-40℃ to +55 ℃
Relative humidity
30% to 90%
Note: If you have customized requirements for fuel dispenser, please feel free to get in touch with us. We will strive to realize win-win cooperation with premium quality petroleum machinery products, best services, fast delivery and reasonable prices.