BC-YC Pull-off Valve for Oil Station
JAYO BC-YC pull-off valves are designed to be installed on fuel dispensing hoses. When subjected to a certain pressure, the pull-off valve will separate. Two valves can automatically seat, shut off fuel outflow, limit fuel leakage, and protect fueling equipment. Under the normal operation, JAYO BC-YC 3/4'' valves should be installed on fueling hose with stretched length not less than 9'', while JAYO BC-YC 1'' valve should be installed on rubber hose with length not less than 12''.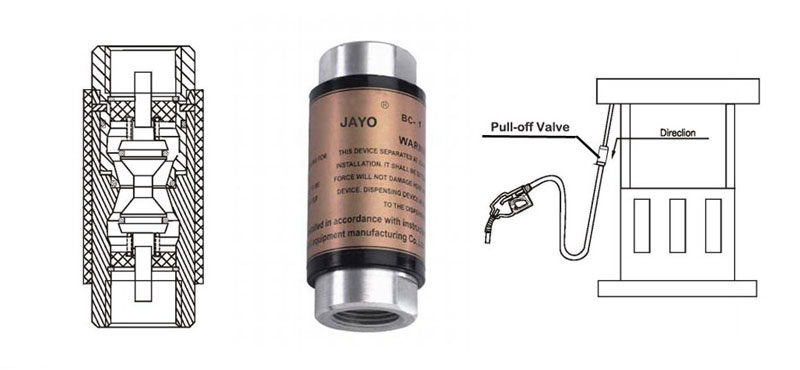 Features of BC-YC Valve
Pull force: JAYO BC-YC 3/4''will break away under the force of 300lbs±5% while BC-YC 1'' will break away under the force of 360lbs±5%.
Operation confirm: After separation, replace the break valve with a new one. Do not re-install it. This product is for one-time break off use.
Unique dual valve design to realize two-way cut off.
Flow rate: BC-YC 3/4''- 0-60L/min; BC-YC 1'' – 0-120L/min
Working pressure: 0.18㎫
Low pressure: the integral cut-off valve design can reduce the pressure to a minimum, accelerating the flow rate.
100% factory inspection.
Technical Parameters of BC-YC Pull-off Valve
Model
Size
Package
Material
BC-YC801
NPT3/4'' X NPT3/4''
Net weight: 0.23kg/pc;
Gross weight: 0.26kg/pc
Body: aluminum
Main seals: Viton
Main spring: stainless steel
Guide and poppet: POM
Protective sleeve: PVC
BC-YC802
BSP3/4'' X BSP3/4''
Size: 26.8*48*26cm3 case of 100pcs
BC-YC803
NPT1'' X NPT1''
Net weight: 0.38kg/pc
Gross weight: 0.44kg/pc
BC-YC804
BSP1'' X BSP1''
Size: 29*29*30cm3 case of 50pcs