Explosion-proof Self-priming Oil Pump AHCB-2 Series
AHCB-2 series oil pump belongs to inside sealed slip blade self-priming pump. It is one of our up-to-date products developing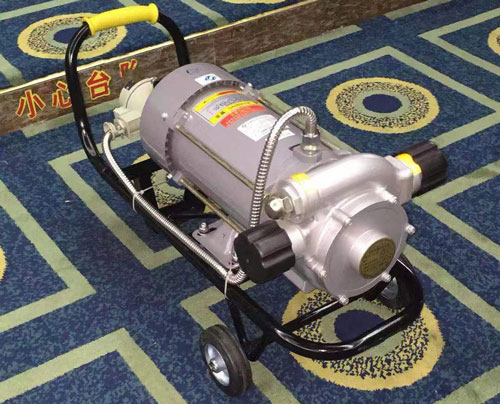 and producing by ourselves. This pump have awarded two patent. Compared with other pumps, the advantage of this oil transfer pump is that it can pump and deliver oil automaticly without puring oil into the pump. At the same time, the pump is oil-resistance, general impurity-proof and air-proof. So, when cleaning the remaining oil at the bottom of oil tank or truck, it will be high efficiency, fuel-saving by using AHCB-2 series oil transfer pump. For now, these AHCB-2 series oil pumps have obtained a number of national patents, passed the GB/T19001-ISO9001:2015 standard certification, and obtained the quality management system certificate. Meanwhile, these pumps also have obtained the explosion-proof certificate of the National Explosion-proof Electrical Product Quality Supervision and Inspection Center, and the explosion-proof mark ExdellBT4Gb+E.xcllT4Gb.
Applications of AHCB-2 series Oil Pump
◈ This series pump can be widely used in oil storage depots, gas stations, railways, docks and other oil loading and unloading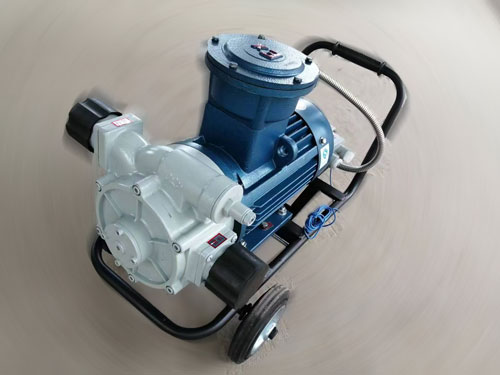 operations.
◈ It can transport gasoline, diesel, kerosene, methanol, ethanol and other oil products and liquid raw materials.
◈ Explosion-proof flexible vane pump, in addition to the above performance, due to the continuous reciprocating elastic working principle structure of the vanes in the pump chamber (the vanes are made of special rubber materials), which makes it oil-resistant, corrosion-resistant, wear-resistant and flex-resistant. Therefore, these pumps are more suitable for use as oil tanks, oil tank trucks, oil tanks and other occasions, cleaning the bottom oil, cleaning up oily garbage, has more superior performance, and has significant work efficiency and economic benefits.
Working Principle of AHCB-2 series Self-priming Oil Pump
Rotor and stator have a trend core. When the rotor move clock-wise, the blade will slide closely to the inside surface of stator. Then there is a changing sealed housing among stator, rotor, holder board and every two neighbor blades. On the right, the housing moves along the rotor. The housing is becoming large to form vacuum. With the help of air pressure, the pump sucking oil from inlet. At the same time, on the left, the housing is becoming smaller and the oil in housing is drained from the outlet. Then it meets the function of suction and drainage of this slid blade pump.
Technical Parameters of AHCB-2 series Self-priming Oil Pump
Model
Flow
(L/min)
Head
(m)
Suction
(m)
Power
(kw)
Voltage
(V)
Speed
(rpm)
5m vertical height
Self-priming time(s)

AHCB-2-75

4.5
30
7
0.75
220/380
1390, 1430
30

AHCB-2-400

25
20
7
2.2
 380
1410, 1400
30

AHCB-2-650

40
15
7
4
380
1435
30