Petroleum Transfer Hose – Composite Hose
Jayo Petro provides composite petroleum transfer hoses with good quality and high performance. The constructions of our composite hose are designed for the whole range of mineral and fuels. Composite hoses are available from low pressure road tanker applications to heavy duty ship to shore. We design and produce all these hoses for oil suction and fuel delivery. Our composite hoses are tough and high-strength oil and petroleum transfer hose. They are designed for applications suchas rail car loading and unloading, road tanker bottom loading, lubricating oil plant hose exchanges.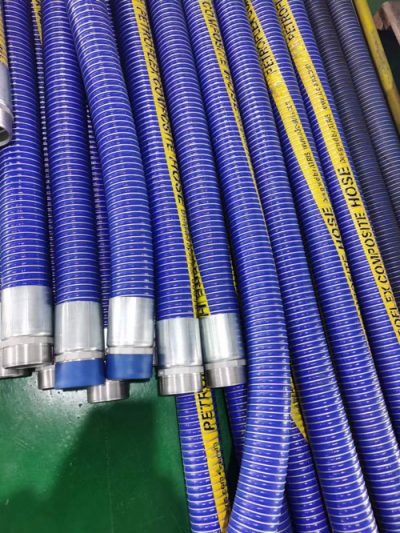 These composite hoses are produced from multiple layers of thermoplastic fabrics and films supported by metallic wire inner and outer helices. Galvanised wires are high tensile steel with a heavy hot dip zinc coating to reduce corrosion. Moreover, the composite hose is lined and reinforced with polypropylene fabrics, and sealed with polypropylene films. Besides, the cover is a wear and weatherproof layer of PVC coated polyester.
Construction
◈Inner Wire spiral: galvanized steel
◈Outer Wire spiral: galvanized steel /stainless steel 304/stainlesssteel 316
◈Inner lining: polypropylene (e)
◈Cover: PVC  (or pp on request)
Features:
◈A commonly used European standard composite hose.
◈This type of hose is relatively light and soft, and it is very safe and operable in storage areas, exchange stations, loading and unloading platforms where hoses often need to be moved.
◈In short, this composite hose is mainly used in the soft connection part of the liquid oil pipeline transmission in storage areas, exchange stations, and loading and unloading platforms, and can transport various oil products under normal conditions.
Technical Parameter
| Bore Diameter | Max Working Pressure | Bend Radius | Weight | Max. Length |
| --- | --- | --- | --- | --- |
| 1" / 25MM | 14bar / 200PSI | 200MM | 1.35kg/m | 30m |
| 2" / 50MM | 14bar / 200PSI | 225MM | 2.45kg/m | 30m |
| 3" / 80MM | 14bar / 200PSI | 350MM | 4.2kg/m | 30m |
| 4" / 100MM | 14bar / 200PSI | 400MM | 4.9kg/m | 30m |
Remark: The above data are for reference only, please consult our Technical Department for specific parameters.