Electric Heating Rubber Hose for Automobile Refueling Engine
The eletric heating rubber hose is composed of an oil-resistant inner rubber layer, a skeleton lining layer of steel wire or fiber,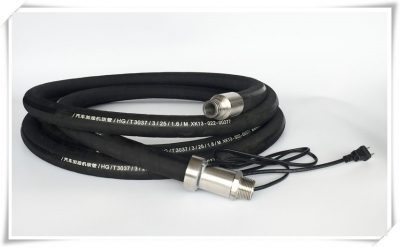 an insulating isolation layer, a heating wire winding layer, a middle rubber layer and an outer rubber layer with flame retardant properties, etc. and parts. And the second stage of the heating wire inside the hose body is connected with two copper core power supply wires through the crimping terminal block, and the power wire is connected with the 220V power supply, so that the heating wire can generate a certain amount of heat.
Features of This Rubber Hose
◈Standand: We provide this kind of rubber hose in accordance with HG/T3037.
◈Construction: It consists of rubber tube, one layer of steel wire braid reinforcement and cover with carbonfiber heating layer.
◈Application: This rubber hose is suitable for heating hose of diesel engine-gasoline and diesel, oil and so on, so as to prevent wax from hanging on hose inner wall.
◈Working temperature: -54℃~60℃
◈Hose color: black, red, yellow, green or blue
Specifications of this Rubber Hose
Inner diameter

Outer diameter
Working pressure
Minimum bending radius
25mm
1 in
37mm
1.6 ㎫
150mm