Vacuum Pump for Oil & Gas Recovery
Oil and gas recovery is a new technology of energy saving and environmental protection. The oil and gas recovery technology is used to recover the oil and gas discharged during the storage, transportation, loading and unloading of oil products, to prevent the air pollution caused by the volatilization of oil and gas, and to eliminate potential safety hazards. By improving the utilization rate of energy, reducing the economic losses, thereby obtaining considerable returns. During the process of storage, loading and unloading, and transportation of oil products, a large amount of oil and gas will be generated due to its volatility. Therefore, in the above process, oil and gas recovery devices are often equipped to collect oil and gas. On the one hand, it can reduce oil and gas pollution and safety hazards, and at the same time, it can reduce oil consumption and increase efficiency.

Many people do not understand the oil and gas recovery vacuum pump, thinking that the pump directly plays the role of sucking oil and gas in the recovery process. But in fact, as one of the core equipment of the adsorption oil and gas recovery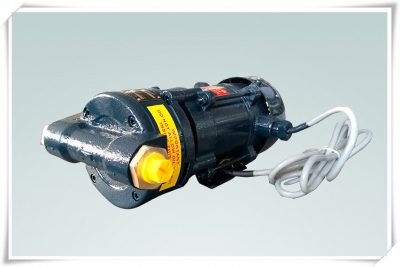 process, the vacuum pump mainly undertakes the task of desorption and desorption. The role of the oil and gas recovery vacuum pump is not to directly pump out the oil and gas, but to realize the desorption and desorption of the oil and gas in the adsorbent by creating a high vacuum, which creates the condition for recovery.
Features of Vacuum Pump
◈Oil-free &  maintenance-free
◈Long working life
◈Suitable for mechanical proportional valves
◈Also suitable for electronic proportional valves
◈The inlet and outlet are equipped with integrated flame arresters to ensure safe use
◈Pump can be flexibly mounted in different orientations
Technical Parameter of Vacuum Pump
Model
Ex-mark
Protection
Level
Voltage
Power
Current
Flow rate
Speed
Max.
Vacuum
Vapor
hose
thread
VRB-110
ExdII AT3 Gb
IP54
220V
/380 AC
120W
1.2/0.4
80L/min
2800RPM
0.025㎫
BSPF1/2"
VRB-80
ExdII AT3 Gb
IP55
36V DC
45W
2A
80L/min
150RPM
0.04㎫
BSPF1/2"
VRB-60
ExdII AT3 Gb
IP54
220V
/380 AC
370W
1/3
60L/min
2800RPM
0.04㎫
BSPF1/2"
Package Info of Vacuum Pump
Model
Dimension (cm)
Net weight
Gross weight
Package
VRB-110
38*23*25
13kg
14kg
/
VRB-80
Pump only:
Full set:
42*34*37
41*35*33
20kg
17kg
21.5kg
18kg
4pcs/CTN
2sets/CTN
VRB-60
Single pump:
Double pump:
46*20*30
50*26*24
12kg
14kg
13kg
15kg
1pcs/CTN
1pcs/CTN