Vapour Recovery Breakaway Valve & ZVA Breakaway Coupling SSB16.1
This vapour recovery breakaway valve is installed in the hose line of the oil and gas fuel nozzle. When the fueling work is mistakenly operated and the fuel gun is forgotten in the tank, and the car starts to drive away, the pull-off valve will separate when the valve bears a certain tension. After the automatic separation of the breakaway valve, the valve at the hose immediately closes, cutting off the flow of fuel, preventing the leakage of oil and ensuring safety. This protects refueling equipment, property and personal safety. The vapour recovery breakaway valve can effectively stop the overflow of fuel dispenser oil and damage to the dispenser caused by vandalism, thus effectively saving costs.

This vapour recovery breakaway valve is made of aluminum alloy, which meets the safety requirements of the structure and performance of the safety pull-off valve used in gasoline dispensers and is durable. Moreover, this breakaway valve is also reusable, easy and convenient to reconnect after separation, effectively reducing production and use costs. The special treatment of the outer surface is beautiful and elegant, avoiding the bad conductivity caused by the ordinary oxidation treatment. Special material seal ring is used to ensure no leakage for long time use.
Generally speaking, this vapour recovery valve is installed between the oil nozzle and hose. When the oil gun hose is subjected to external tension of about 150㎏, the pull-off valve will automatically separate and the valve at the hose will be closed immediately to prevent the oil from leaking out and ensure safety. This pull-off valve has super anti-static ability, effective pull-off, exquisite workmanship, precise size, reliable seal and safety guarantee.
Notes when using this valve:
◈ The breakaway valve can be reused, daily refueling do not pull or rotate artificially and intentionally.
◈ If an accidental pull-off event occurs, try to collect the parts scattered after disconnection, do not discard, and promptly notify the professional maintenance personnel, according to the operating procedures to restore the use of special tools. Non-professional personnel shall not repair without authorization, so as not to pull off the force does not meet the requirements, leaving the accident hidden trouble or pull off the valve damage.
◈ If the parts are damaged and cannot be restored, a new pull-off valve is required.
◈ Users should keep the positive refueling (i.e. car tank mouth facing the dispenser), avoid reverse refueling (i.e. car tank mouth back to the dispenser), so as to avoid the accident caused by the direction and angle change caused by the pull-off valve in the unexpected situation can not be normal off.
Besides, Jayo also provides ZVA breakaway coupling G-1″ Male x M34*1.5 Male SSB16.1 and ZVA breakaway coupling G-1″ Female x M34*1.5 Male SSB16.1 as picture shows: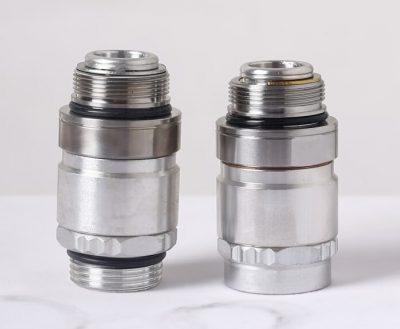 Technical Parameters of ZVA breakaway coupling:
| | |
| --- | --- |
| Model | ZVA breakaway coupling |
| Thread | 1" |
| Package | 100pcs/carton |
| Net weight | 20kg |
| Gross weight | 21kg |
| Dimension | 440*230*140mm |