Fuel Unloading Valve &  Delivery Elbow
Fuel Unloading Valve
As one of tank truck parts, The fuel unloading valve is installed on the side of the bottom of the tank truck, and is used for the oil loading/unloading system at the bottom of the tank truck, which makes fuel loading and unloading more convenient. It is usually only used for oil feeding when there is no handle. With handle can be used for oil in or out. The two positions of the handle can effectively adjust the oil discharge amount. This valve is light in weight and has a high discharge rate. It is designed, engineered and tested to EN1308 standards. The valve cover is made of hard anodized aluminum alloy for improved wear resistance.

Materials of Fuel Unloading Valve
Body, cover: cast aluminum alloy
Poppet: stainless steel/ aluminum alloy
Latch plate for shaft: stainless steel
Handle: H62 brass
Seals: Viton and Nitrile
Features of Fuel Unloading Valve
◈Anodized aluminum alloy body. Hard-polarized bonnet, main valve.
◈Comply with American API RP1004 standard and TTMA standard. Can be docked with API connectors.
◈Two-position adjustment of the aluminum handle to adjust the flow.
◈Viton seals for high octane fuels and additives.
◈The internal structure of the fluid design is designed to minimize the pressure drop at high flow rates.
◈Stainless steel operating shaft, spring, valve stem to ensure service life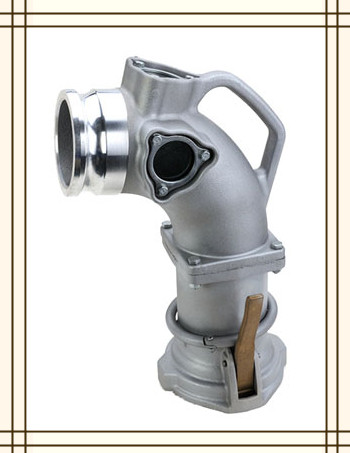 Fuel Delivery Elbow
The fuel transfer elbow is a tank truck accessory that connects the fuel hose and the anti-spill container for oil discharge whenthe oil tanker unloads the oil from the underground oil tank at the gas station. It is clamped on the sleeve of the anti-overflow container, and the male end of the concave-convex groove is connected with the connector of the oil pipeline.
Feature of Fuel Delivery Elbow
Aluminum alloy material, light weight.
Suitable for radial seal 4" material is copper sleeve
Unique concave cam turning wrench for easy connection and removal
The operator can check whether the liquid is flowing through the sight glass
Technical Paramater of Delivery Elbow
| | | | | | |
| --- | --- | --- | --- | --- | --- |
| Model | Connect | Application | Net weight | Gross weight | Dimension |
| SYWG-E1-504 | 4"Male cam & groove | 01 Pipe Adapter | 5.8kg/pc | 6.5kg/pc | 54*33*24cm3 |
|  SYWG-E1-604 | NPT4" Male Thread | 01 Pipe Adapter | 5.8kg/pc | 6.5kg/pc | 54*33*24cm3 |
|  SYWG-E1-704 | BSPT4" Male Thread | 01 Pipe Adapter | 5.8kg/pc | 6.5kg/pc | 54*33*24cm3 |