LPG Solenoid Valve mQF-15
The LPG solenoid valve mQF-15 is suitable for LPG dispenser. It has large flow capacity, adopting potting type explosion-proof, compact structure, small size and superior performance. Moreover, it is a reliable and ideal explosion-proof solenoid valve for LPG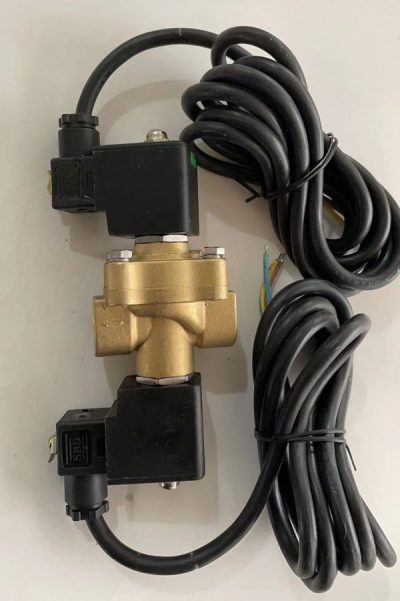 dispenser control. This product is a normally closed electromagnetic control valve. The built-in container (2A) of its electrical components prevents the coil from overheating and burning, ensuring the safety of use in explosive gas environments.
Main application: Used in LPG dispenser to improve the accuracy of gas delivery.
Working Principle of LPG Solenoid Valve
When the coil is energized, the moving iron core generates a magnetic force to lift the iron core up, and the medium pressure in the upper cavity of the piston is guided to the outlet port of the valve through the central valve seat. The medium pressure at the inlet end is greater than the pressure at the outlet end, so that the piston of the main valve is lifted up, and the valve opens safely. When the coil is de-energized, the movable iron core is assisted by the iron core spring to make the iron core descend. Closes the center seat of the main valve piston. The pressure at the inlet end generates piston back pressure through the piston guide hole, and the main valve is closed.
Service Condition
◈Atmospheric pressure: 80~110㎪
◈Environment temperature: -40~+50℃
◈Normal pressure: 1.60㎫ Operating pressure differential: 1.60㎫
◈Using occasion: Areas 1 and 2 containing explosive gas mixtures of IIA, IIB, IIC, and T1~T3 groups.
◈Working position: horizontal placement
◈Operating environment: No violent vibration, no dripping, splashing, splashing, no severe corrosion and gas (steam) or liquid that damages insulation.
◈Working medium: LPG (Liquefied Petroleum Gas)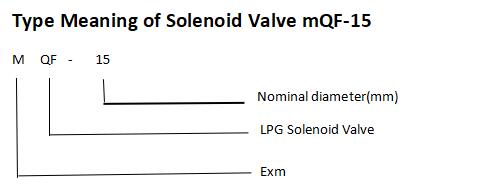 Features of LPG Solenoid Valve:
◈Electromagnetic pilot valve control, advanced technology, reliable action.
◈The main valve diaphragm is made of imported special rubber, which is highly corrosion-resistant and resistant to low temperature -40°C.
◈Magnetic circuit components are made of special stainless steel magnetic material, which will never rust or produce residual magnetism.
◈The coil parts adopt imported F grade enameled wire, which makes the coil temperature lower and the insulation performance is excellent.
Technical Parameter
| Model | mQF-15 |
| --- | --- |
| Nominal diameter | 15mm |
| Normal pressure | 1.60 ㎫ |
| Flow rate | 35L/min |
| Min working error | 0.035 ㎫ |
| Normal voltage | AC220V 50/60Hz |
| Fluctuation of voltage | 85% ~ 110% |
| Insulation grade | B |
| Type of connection | internal thread G1/2 |
| Environment temperature | -40~+50℃ |
| Relative humidity of ambient air | 5% ~ 95% ±25℃ |