Flow Meter RSJ-50 for Fuel Dispenser
The flow meter RSJ-50 is installed in the hydraulic compartment of the fuel dispenser. And it is designed to measure the volume of fuel passing through the hydraulic system of the fuel dispenser. In general, for this piston flowmeter, its accuracy is ±0.2%. Compared with similar products, this accuracy is higher and its lifespan is long-lasting. The flowmeter is an important guarantee for the metering function of the tanker. It can still work normally in an ultra-low temperature environment of minus 40 degrees.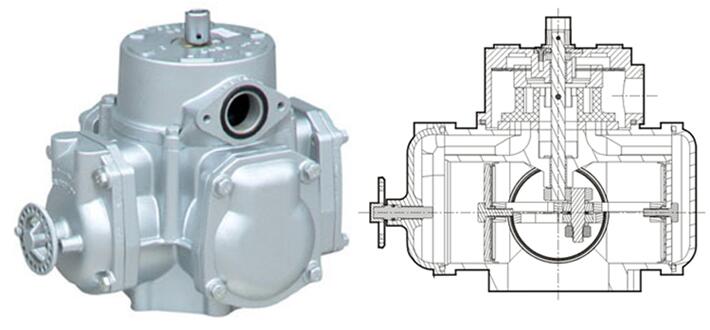 Material & Structure of Flow Meter RSJ-50
◈Body material: aluminum alloy housing, stainless steel sleeves, composite piston seal, stainless steel rocker mechanism
◈Structure: stainless steel cylinder liner, four-piston strokes
◈Advantage: novel appearance, small body, high strength, good wear resistance, accurate measurement, long service life.
Working principle
The principle of operation of flow meter RSJ-50 is based on the passage of fuel through a metering device. Inside the flowmeter housing, it has four cylinders with pistons operating due to the kinetic energy of the liquid passing through them. The pressure of the liquid is created by an external oil transfer pump – ZYB-50. The pistons are placed in pairs on two connecting rods in four mutually perpendicular measuring cylinders with a volume of 0.125 liters each. Fuel alternately enters each of the four cylinders, then is fed to the output of the volume meter. Pistons with connecting rods under the pressure of fuel perform reciprocating motion in the cylinders. Connecting rods rotate a vertically positioned crankshaft, the free end of which protrudes outside the housing and is connected to the pulse generator by means of a coupling. It can complete with a rectangular O-ring IO50-09. Besides, O-rings are oil & gas-resistant with an operating temperature range from -40°C to +55°C.
Technical Parameters of Flow Meter RSJ-50
| | |
| --- | --- |
| Model | RSJ-50 |
| Flow rate | 5L-60L/min |
| Discharge rate per revolution | 0.5L |
| Adjustable Minimum Volume | 0.05% |
| Accuracy | ±0.2% |
| Repeatability | ≤0.07% |
| Dimension | 50*29*24cm |
| Net weight | 10kg |
| Gross weight | 10.5kg |
| Package | 2PCS/CTN |