FMC Series PD Rotary Vane Flow Meter
This is a kind of positive displacement flow meters (short for PD flowmeter) that can be used to continuously measure the volume flow of liquid flowing through a pipeline. It belongs to the highest precision class among flow meters classification. PD rotary vane flowmeter is an instrument that directly accumulates flow according to the volume of the discharged fluid.

Advantages of PD Rotary Vane Flowmeter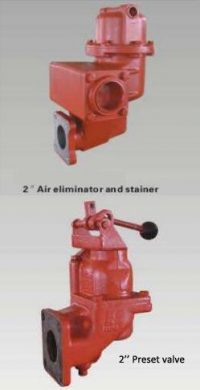 ◈This series PD rotary vane flowmeters are single chamber, angle-type, rotary vane and positive displacement flowmeters.
◈It has high measurement accuracy and wide application range, and is suitable for measuring various fuel oil products from gasoline to kerosene.
◈With the compact structure and various designs, this flow meter is suitable for various installation forms.
◈With low pressure loss, this flow meter is well suited for gravity unloading.
◈The advantages of long service life, low wear bearing and cam structure can make the flowmeter able to run for a long time with high accuracy.
Applications
FMC series PD rotary vane flowmeter can be used in mixing, batch processing, sub-packaging, inventory control and airtight transportation of various oil products, solvents, chemicals, paints, fertilizers, etc.
Technical Parameters
Model
FMC-50
FMC-80
FMC-100

Size

50mm/2"
80mm/3"
100mm/4"

Flow Rate Range

38~380L/min
75~750L/min
150~1500L/min

Max Working Pressure

10Bar/150PSI

Accuracy

±0.2%

Repeatability

≤

0.07%

Dimension

59*34*57cm
70*40*58cm

83*46*65cm

Net weight

42kg
56kg

80kg

Gross Weight

57kg
70kg

96kg

Package

1pc/wooden case
Construction

Our company Jayo Petro has been engaged in the supply of gas station equipment and parts for almost 40 years. We provide the cost-effective equipment and parts for gas stations, including various positive displacement flow meters. So if you have any other requirements for flow meters, please feel free to contact us via email info@jayopetro.com or leave message to us. We will have professional customer service at your service!